Mrs. Replak's Third Grade Class
Grades will be determined by written tests and quizzes, class work, project work, presentations, homework, and class participation.  Projects and presentations are graded as tests.  Review sheets will be attached to weekly newsletters and are given in advance.  If your child must be absent from school, missed assignments will be sent home with a designated homework buddy unless other arrangements are made.  Missed work should be made up within two days of an absence. If they miss an assessment, they will make it up when they return.  There are no retakes of assessments once they have been given.   
Students should have at least one library book for silent reading in school at all times. Students are expected to read at home each night and complete an assignment.
Weekly Newsletters
 will be sent home on Monday afternoons. Please review the newsletter, sign it and return it to school with your child every Tuesday.  The newsletter will give you a peek at the week's academic's, important events to mark on your calendar, upcoming tests/quizzes, a note from me, missing assignments, and an evaluation of your child's behavior/quality of assignments for the week. Review sheets, assessments, and important notices will be attached to the newsletter.  
Class 3-3'sRockin' Behavior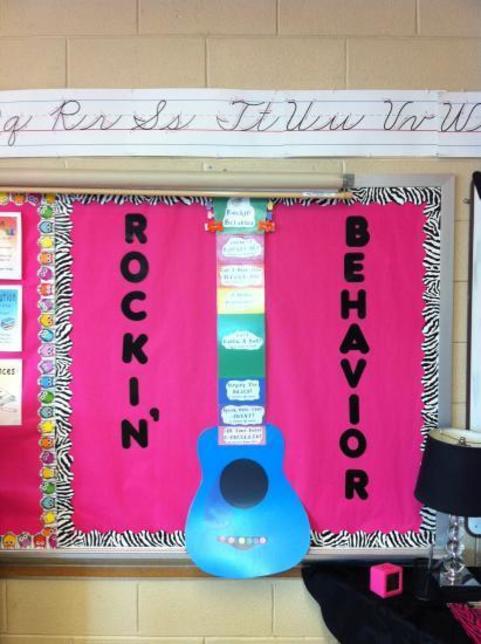 Who has Rockstar Behavior?
Red

- You're A Rockstar!= Above and beyond

Orange

- Can I Have Your Autograph?= Excellent

Yellow

- A Stellar Performance= Great

Green

- Let's Rock –N- Roll!= You are ready to learn (We all start here)

Blue

- Singing the Blues= 5 minutes off recess

Purple

- Speak with your Agent= 10 minutes off recess

Pink

- All Tour Dates Cancelled= No recess/ Action Plan

RewardsIndividual:
Praise
Positive notes/call home
Tickets-raffle for Treasure Chest
"Caught Doing Good" coins
Certificate-Award
Lunch with teacher
Homework passes
Whole Class: